Is the most classic strategy board game of all time. If you are looking to play Risk online, you are in the right place. Millions of fans can remember heated diplomacy and rolling dice into the early morning. But sometimes that's not possible, so playing online can really take the Risk experience to the next level.
I have been playing the board game for 30 years but wanted something more. Also I couldn't gather my friends around the table every week, so I needed some online players. If you type in "play risk online" into any search engine you are presented with tons of options. But joining a community and figuring out a site's interface can be time consuming process.
So I am here to simplify it for you.
I have joined every variant of Risk clone out there, looking for the best experience, the best community and the most fun.
The quality of the Risk clones out there ranges from good to terrible, so I have rated 5 important aspects of all these sites and compiled them into one meta score.
Take a look and see which Risk site would be best for you.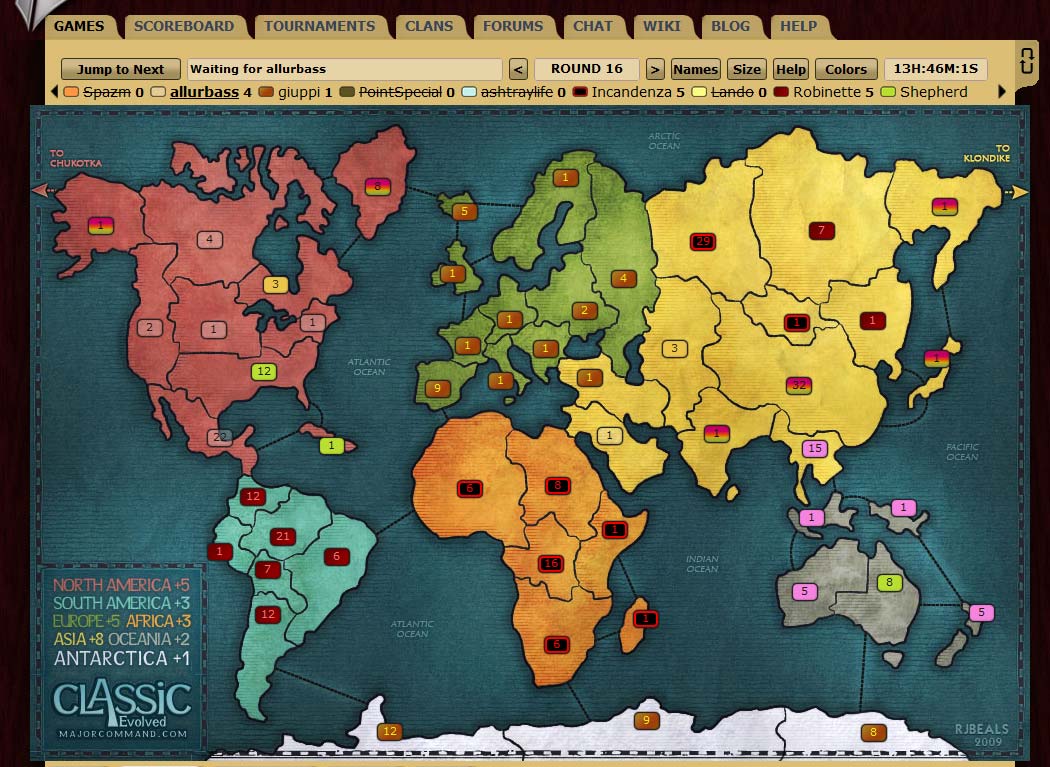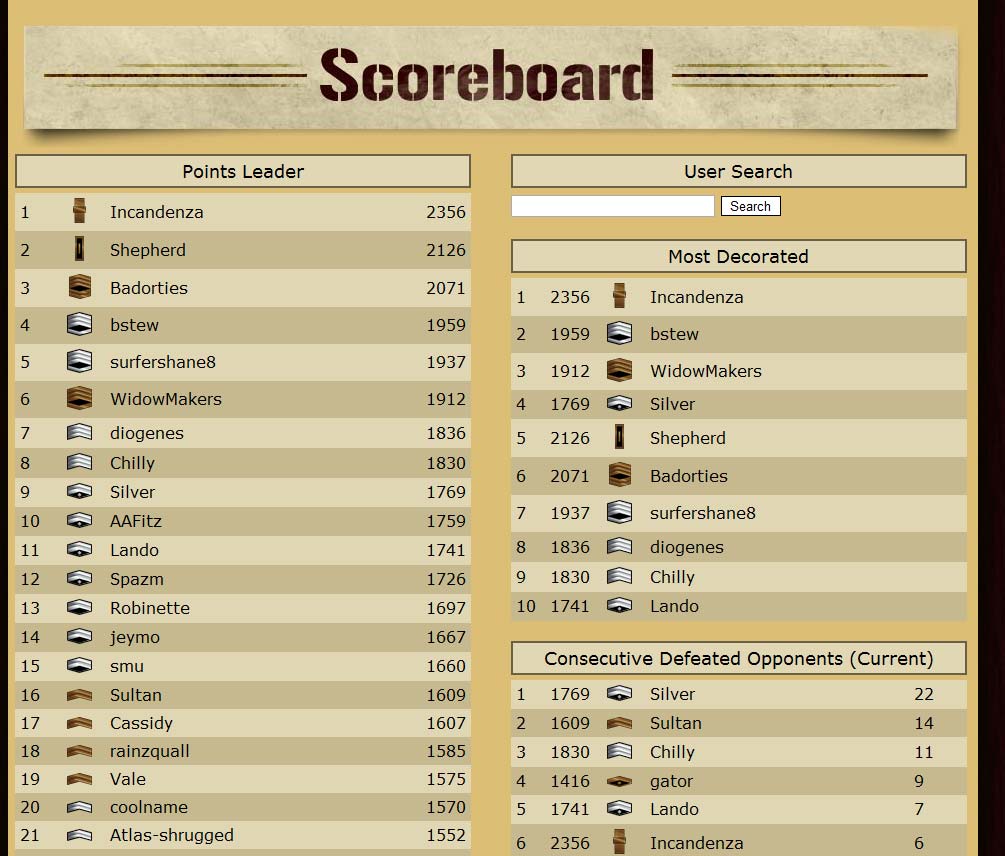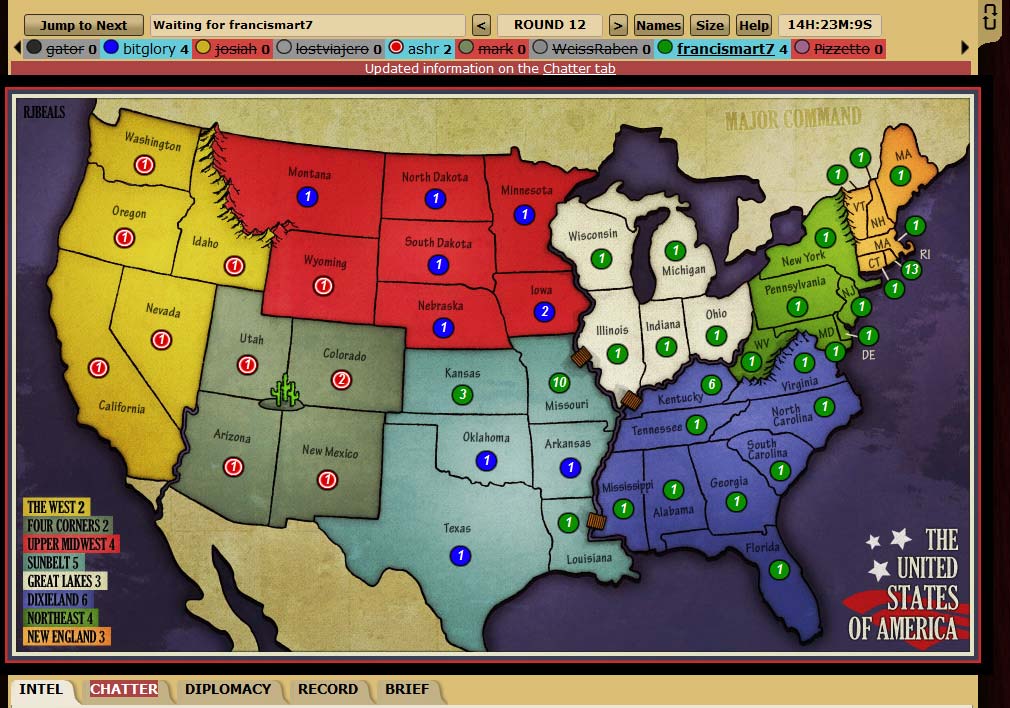 The game interface is easy to use and efficient. It's packed with options but not overly cluttered. The load times are not suitable for dialup. The site has simple tabbed navigatable, though some parts are unfinished.
The community is small but engaged and growing quickly. However all the tools are in place to be a highly communal site. Forums are lively, user profiles have depth, and the scoreboard has many options to rank on. There is even a wiki and developer blog.
Playing is a blast and the built in diplomacy feature takes the game to new heights. There are plenty of rule variants to keep you busy but real time games are hard to get going at this stage. A thoughtful gaming experience has left very few pain points.
There is only seven maps but they are all gorgeous and well thought out. Each has a unique interactive layer to keep it interesting. They have a team of skilled map designers so expect more on the way.
Still in beta, this multi-member team is highly talented and experienced. Updates and fixes are rapid and the developers are active in the community. It seems to be a professional operation dedicated to making it's mark in Risk based gaming.




While it seems a bit dated, it gets the job done. Drop down boxes and menus are used during the game. Much of the rest of the site is integrated into phpbb forum software. Users will need 3rd party scripts and add-ons to complement the interface as the developer has not added these improvements to the core game.
One of the largest and most active Risk playing communities out there.  Some 20,000 active users and a robust forum with over 2 million posts.  The forums is where the community is as many members have taken up the charge with tournaments, clans, forum games, and other user created extras.
Conquer Club has a well-deserved reputation as one of the most addicting Risk clone sites. There are lots of options, but not so many that you can't get a pickup game going within minutes. The casual games are easy to play once a day or you can play real time games as well. There are also limited achievements to be won.
There are well over a hundred quality maps to play, ranging from tiny to massive, simple to extremely complex. All of them have been tested and officially approved, and quite a few have high quality graphics. The downside is that the sheer number of maps can be daunting for new players as there isn't much in the way of descriptions or organization.
Started in 2006, Conquer Club can be considered a mature gaming site, with all the advantages and disadvantages maturity can bring. The major disadvantage is that official development progresses at a very slow pace, leading to declining activity and restless membership. However the community is large enough to keep the embers burning for quite some time.




The game interface is quick and simple to understand.  What it lacks in style and character it makes up for with feature rich additions.
The forums are not very active, but there are some tournament tools to use. No scoreboard though, which is unfortunate
You can immediately jump into a single player against AI, which can be fun and provide a little practice. Multiplayer has lots of options and works well, as long as you manually invite your friends. The community is small so don't expect pick up games.
The maps are really a weak spot.  They are boring, two color, and serve the gameplay only.  there are 4 standard maps and 30 or so user created ones with are mostly worthless.
The site is still in beta, and the developer is active. The up-to-date site design looks fresh and should attract new players. Keeping them involved in the community might be difficult though.




The basic site interface can be confusing for the uninitiated. The game interface benefits from clickable maps instead of menus, but certain features are on entirely different pages, which is annoying. The turn by turn playback is an invaluable tool.
Almost all player interaction takes place within the forum, which have over 50K posts. There isn't much in the way of tournaments or user created content as most of the discussion is just that, discussion. Fine if you want to
play slots
, not so much if you are playing Risk.
With more game types than any other site, Landgrab can be a lot of fun. The game options are incredibly varied and almost infinitely customizable, and Landgrab even features AI players. There are loads of achievements, though many are easy to attain, along with multiple leader boards.
There are around 100 official maps ranging in quality from good to disaster. Players can upload their own maps without official approval, which can extend the possibilities endlessly or waste a person's time on an untested map.
Online since 2005, LandGrab has motored along largely on the dedication of its responsive developer, who updates on a monthly basis. Unfortunately, the site as a whole is less than the sum of its parts, due to the lack of attention to user interface and design. Growth is limited because of this.




Playing a game combines a clickable map and drop down boxes. It doesn't feel fresh but it gets the job done. Small design touches help the user interface along. Browsing the site is a slick and professional experience.
The only community takes place in the forums which could be more active. There is no true scoreboard and the user profiles have sparse information.
The games can be fun with a good group of players. There is a few interesting rule variants to try also. The scoring and ranking system is a bit convoluted and you have to buy maps and game types with tokens earned for good behavior.
There are only four maps but they all have a decent level of design aesthetics. There are no user-generated maps which might be a good sign of quality standards. Maps must be earned with site tokens.
Recently out of beta they now offer a premium membership for $25. There is one developer who seems active and responsive. The member base is growing and there is a decent amount of open games to jump into.
---