Is the most classic strategy board game of all time. If you are looking to play Risk online, you are in the right place. Millions of fans can remember heated diplomacy and rolling dice into the early morning. But sometimes that's not possible, so playing online can really take the Risk experience to the next level.
Playing online risk can be a great or terrible experience depending on where you play. I learned this the hard way. So I set out to catalog and review every online risk site out there. Community, graphics and fun are important so take look at the below reviews and decide which is best for you.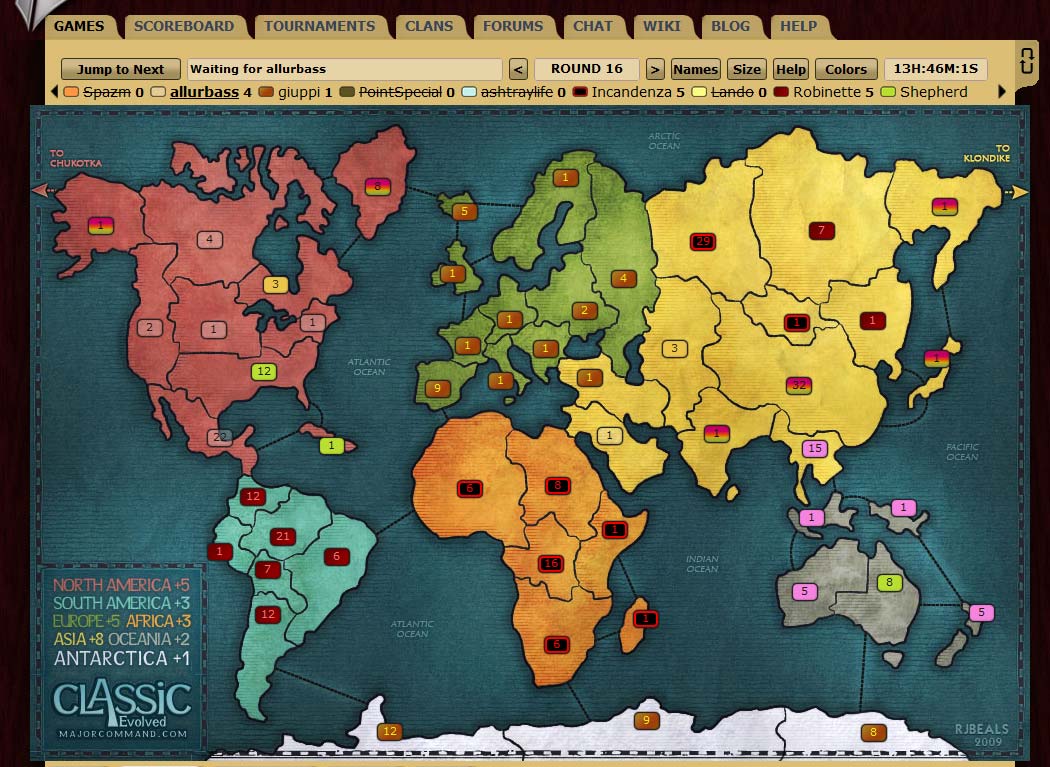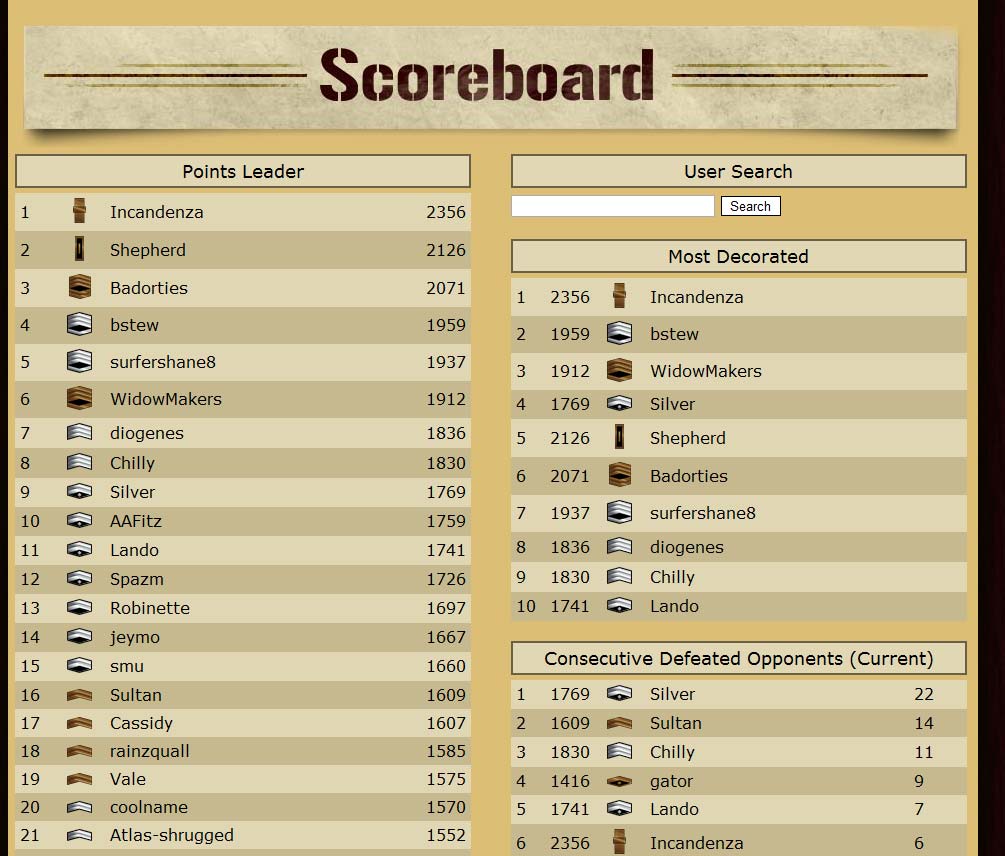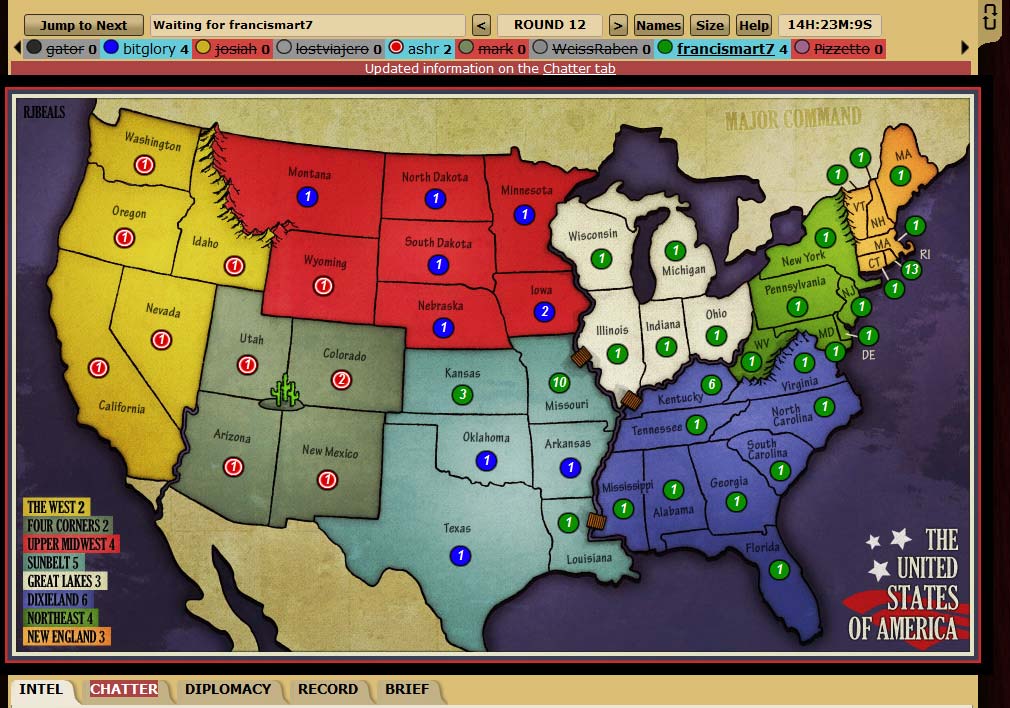 The game interface is easy to use and efficient. It's packed with options but not overly cluttered. The load times are not suitable for dialup. The site has simple tabbed navigatable structure.
The community is small but engaged and growing quickly. However all the tools are in place to be a highly communal site. Forums are lively, user profiles have depth, and the scoreboard has many options to rank on. There is even a wiki and developer blog.
Playing Risk here is a blast and the built in diplomacy feature takes the game to new heights. There are plenty of rule variants to keep you busy but real time games are hard to get going at this stage. A thoughtful gaming experience has left very few pain points.
There is only seven maps but they are all gorgeous and well thought out. Each has a unique interactive layer to keep it interesting. They have a team of skilled map designers so expect more on the way.
Still in beta, this multi-member team is highly talented and experienced. Updates and fixes are rapid and the developers are active in the community. It seems to be a professional operation dedicated to making it's mark in Risk based gaming.




It may be hard to get used to the combination of drop down menus and ad-hoc clickable elements, but it gets the job done. The rest of the online site is limited by what can be done with the forum software that it's based on.
One of the largest and most active Risk playing communities out there. Some 18,000 active users and a robust forum with over 2 million posts. The forums is where the community is as many members have taken up the charge with tournaments, clans, forum games, and other user-created extras.
Conquer Club has survived and grown for years by serving up quality strategic fun. There are lots of options, but not so many that you can't get a pickup game going within minutes. There is lots to explore but discovery can be hard as much of the fun stuff is buried in sub-forums or is otherwise inaccessible to new players.
With over 182 maps you will never run out of new challenges. The maps are generally of high quality thought many of them can be overly confusing, especially to new players. The map making community there is large and prolific.
Started in 2006, Conquer Club can be considered a mature gaming site, with all the advantages and disadvantages maturity can bring. The major disadvantage is that official development progresses at a very slow pace, leading to declining activity and restless membership. However the community is large enough to keep the embers burning for quite some time.




The basic site interface can be confusing for the uninitiated. The game interface benefits from clickable maps instead of menus, but certain features are on entirely different pages, which is annoying. The turn by turn playback is an invaluable tool.
Almost all player interaction takes place within the forum, which have over 50K posts. There isn't much in the way of tournaments or user created content as most of the discussion is just that, discussion. The atmosphere is friendly though.
With more game types than any other site, Landgrab can be a lot of fun. The game options are incredibly varied and almost infinitely customizable, and Landgrab even features AI players. There are loads of achievements, though many are easy to attain, along with multiple leader boards.
There are around 100 official maps ranging in quality from good to disaster. Players can upload their own maps without official approval, which can extend the possibilities endlessly or waste a person's time on an untested map.
Online since 2005, LandGrab has motored along largely on the dedication of its responsive developer, who updates on a monthly basis. With a sizable user base and a present developer, LandGrab should be around for quite a while.




The game interface is quick and simple to understand.  What it lacks in style and character it makes up for with feature rich additions.
The forums are small but are building steam. There are some tournament tools to and a competitive ladder system.
You can immediately jump into a single player against AI, which can be fun and provide a little practice. Multiplayer has lots of options and works well, as long as you manually invite your friends. The community is small so don't expect pick up games.
With over 100 maps there is a lot to choose from, however most of the maps are user created and without a rating system you are taking a gamble on playability. Map aesthetics are sparse and minimal, which may appeal to some people.
The site is still in beta, and the developer is active. The up-to-date site design looks fresh and should attract new players. Keeping them involved in the community might be difficult though.




The interface is an updated version of ConquerClub's, which is a good thing, but in general not enough was changed to make it innovative. Still using drop down boxes. The rest of the site is clearly laid out.
The community lies in the forums which are more active than their numbers suggest. Still there is only a handful of open games at a time due to low number of users.
There are some interesting play features like Capitals and Kings but other than that there is not much to bring to the table.
There is only three maps though they are of decent quality. There doesn't seem to be much of a desire to create more maps either.
The developer used to be active but has since handed the site over to new management who appear to be just as absent. Don't hold your breath for updates.





Unfortunately, the interface and site are cluttered with ads and banners. The game is run with drop down menus, but there are no game stats offered. The maps are small, and oh did I mention, tons of ads and banners.
There is no community to speak of. No forum or tournaments or clans. In fact, the only place you can be assured that you are not playing alone is the scoreboard, which lists the top 100 players.
With only a basic set of game types and features, it is hard to see the fun extending beyond a few games. However, it's relatively easy to get a game started, as the site regularly has over 200 members on at the same time.
There are about 70 maps in total. Some are interesting and have decent graphics, but most are real turds. All maps have a 600px width, which is a bit small.
There is a strong push on the site to upgrade to a paid membership, which offers limited benefits. It's quite clear this venture is revenue centric and will likely limp along as long as there is some cash in the developer's pocket.




At first visit, the visuals look promising. But the drop down boxes are nothing new. The rest of the site is hard to navigate and can be labyrinthine.
There is no forum or any other method to interact with players, which reinforces the site's main focus, joining the Fellowship of Luca cult. There is a creepy undercurrent of new age philosophy and some sort of "new money". Best to not engage these people.
There isn't much fun to be had as features are very few. Perhaps their philosophy will lead to higher consciousness, but the connection to Risk isn't there. There are 'quests' available but it looks like they have little to do with strategy.
There is only one map, France, and it's not even that good quality.
The site's focus on its new age philosophy at the expense of strategic gaming does not bode well for its future. There are several areas that are under construction and have been for a while. Feels like an incomplete project, but the developer may get their second wind.





There are ads everywhere, including popups. The game interface uses drop down boxes like many others. The site interface is confusing and often slow or unresponsive.
There is none. The entire forum is overrun by spammers, and alternate options for connecting with other players are few.
If you like being bombarded by ads, then this is for you. There are no features that can't be found elsewhere. It's amazing that RiskAttack has managed to register so many users. Amazingly, a player can get a pickup game going fairly easily.
There is only one, and it's stolen from another site.
The site owner has 53 other sites with advertising on them, so it's obvious that RiskAttack is just an ad grab. The design is old and has never been updated.